Start date: 07-03-2023 16:00
End date: 11-03-2023 22:00
Type: Congress
Location: Las Vegas, USA
PeekMed® is attending. Are you?

The American Academy of Orthopaedic Surgeons Annual Meeting is back for five days dedicated to innovation, education, and networking – and PeekMed® will be attending!

From March 7 to 11, Las Vegas will receive orthopedic surgeons and industry professionals from all over the world, making the Venetian Convention and Expo Center the spotlight for the field.

This year's theme is "Experience It!" to believe it with a focus on interactive learning styles (Lecture-Based, Panels, Self-Directed, and Collaborative) and hands-on experiences such as the OrthoDome with 3D and 4k surgical videos.

João Pedro Ribeiro, CEO and co-founder of PeekMed®, stated that "AAOS Annual Meeting is an event dedicated to innovation, so we had to be there. PeekMed® has been delivering innovative solutions using AI and 3D technology and this year we want to continue to present the new technologies we have been working on, including our EIC accelerator winner project for knee osteotomies. We believe that AAOS 2023 will be great to establish new partnerships with other players in the orthopedics field".

If you are attending AAOS 2023 and want to know more about our artificial intelligence-based preoperative planning system for orthopedic surgery, come find us at our stand.

PeekMed®'s booth in the Exhibit Hall is 1355.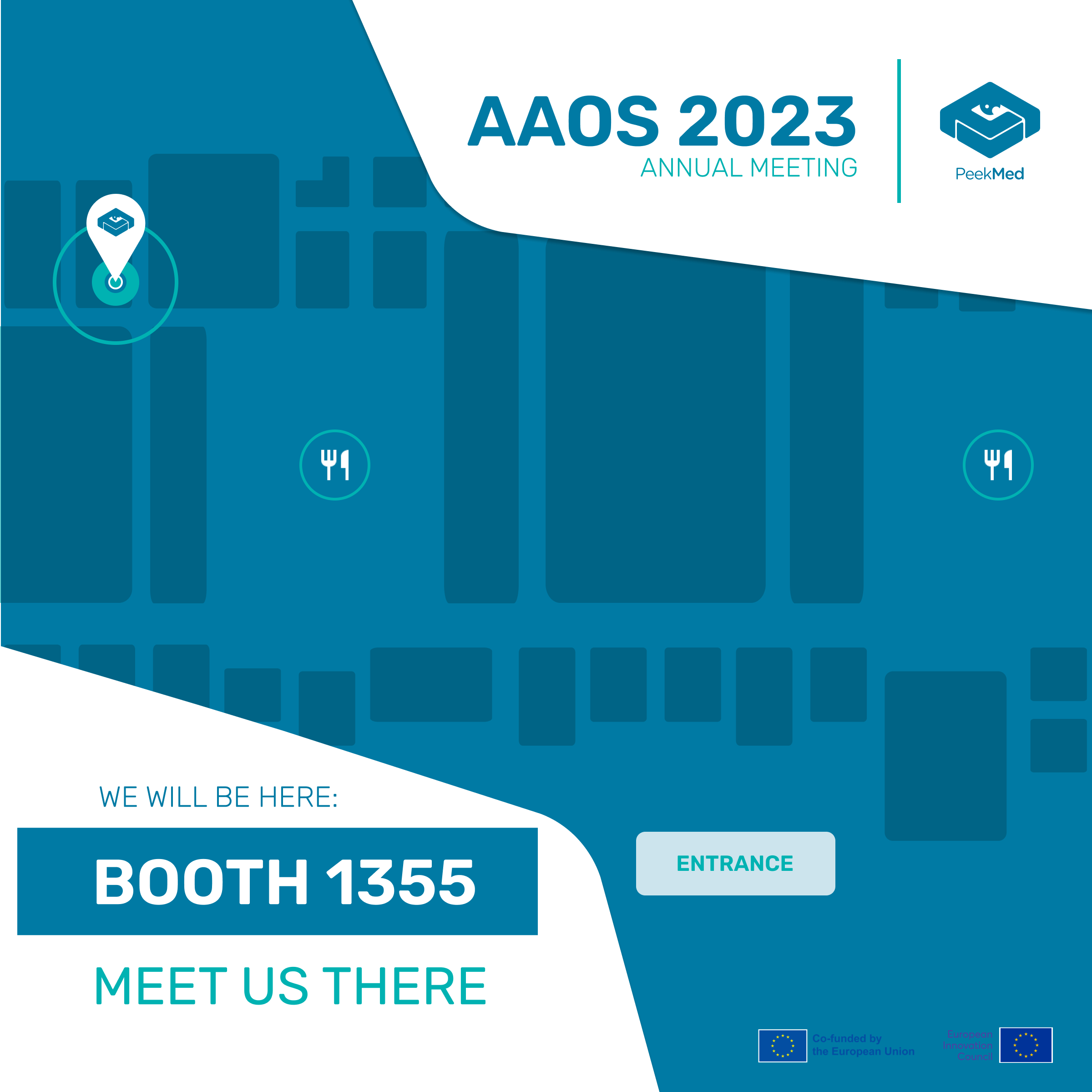 Need more information before doing so? No problem.

How does PeekMed® help surgeons prepare the surgeries?

PeekMed® mission is to provide orthopedic surgeons with a system that assists them with more rigorous and objective planning, making the surgery more predictable, effective, and safe for the patient, while helping the whole value chain to be more efficient and reduce costs.

Using 3D and Artificial Intelligence technology, PeekMed® allows the planning of orthopedic surgery and the simulation of different outcomes and implant sizes in a matter of seconds. So, when the "real" surgery occurs, it is an execution of what was planned.

PeekMed® can efficiently reduce the time spent by surgeons in pre-operative planning while helping hospitals to reduce costs with sterilization and inventory management. You can know more about PeekMed® here.

Who uses PeekMed®?

We have been expanding at a fair rate. PeekMed® has already been used by +3,500 users from +75 different countries.

In this process of expansion, we've acquired all the necessary certifications: ISO 13485, CE, FDA, ANVISA, and EU-MRD.

Need more information about the AAOS Annual Meeting?

Is it mandatory to do a COVID-19 test for AAOS 2023?

All participants will be required to present proof of vaccination or a negative test to enter AAOS 2023. More information about the Health and Safety Resources during AAOS can be found on the organization's website.

Where is the location of Exhibit Hall?

The Exhibit Hall will be on Level 2 of The Venetian Convention and Expo Center.

What are the Exhibit Hall hours?

The Exhibit Hall will be open from March 8 to 10, from 9:00 am to 5:00 pm on Wednesday and Thursday, and from 9:00 am to 3:00 pm on Friday.

What are the Academy Hall hours?

The Academy Hall will be open from March 7 to 10, from 7:00 am to 5:00 pm.

Will OrthoDome be present in AAOS 2023?

Debuted in AAOS 2022, OrthoDome will be back for this year's edition. Its location will be in the Academy Hall and it will be open Wednesday from 8:00 am to 4:30 pm, Thursday to 3:00 pm, and Friday to 12:30 pm.

Is there a new mobile app for AAOS 2023?

A new version of the AAOS Annual Meeting Mobile App is available for Android and iOS. More information about the app and instructions for use can be found on the organization's website.