PACS Systems (picture archiving and communication system) are a medical imaging technology which provides economical storage, retrieval, management, distribution and presentation of medical images. Electronic images and reports are transmitted digitally via PACS systems. This eliminates the need to manually file, retrieve, or transport film jackets. It allows a healthcare organization (such as a hospital) to capture, store, view and share all types of images both internally and externally.
Did you know that with PeekMed it is possible to easily plan an orthopedic surgery using patient's files available in PACS?
The universal format for PACS image storage and transfer is DICOM (Digital Imaging and Communications in Medicine). DICOM permits PACSs, Radiology Information Systems (RIS) and more medical imaging systems to connect with and pass data to systems at other healthcare facilities. Most PACSs handle images from various medical imaging instruments, including ultrasound (US), magnetic resonance (MR), nuclear medicine imaging, positron emission tomography (PET), computed tomography (CT), endoscopy (ES), mammograms (MG), digital radiography (DR), computed radiography (CR), histopathology, ophthalmology, etc. Additional types of image formats are always being added. Clinical areas beyond radiology such as cardiology, oncology, orthopedics, and even the laboratory are creating medical images that can be incorporated into PACS.
A PACS consists of four major components:
The imaging modalities;

A secured network for the transmission of patient information;

Workstations for interpreting and reviewing images;

And archives for the storage and retrieval of images and reports.
Combined with available and emerging web technology, PACS has the ability to deliver timely and efficient access to images, interpretations and related data. It breaks down the physical and time barriers associated with traditional film-based image retrieval, distribution, and display.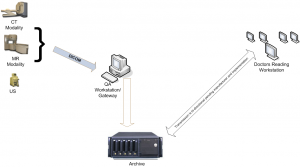 PACS Systems: Advantages and benefits
We may highlight four main uses:
Hard copy replacement: PACS replaces hard-copy based means of managing medical images, such as film archives. With the decreasing price of digital storage, they provide a growing cost and space advantage over film archives in addition to the instant access to prior images at the same institution. Digital copies are referred to as soft-copy.
Remote access: It expands on the possibilities of conventional systems by providing capabilities of off-site viewing and reporting (distance education, telediagnosis). It enables practitioners in different physical locations to access the same information simultaneously for teleradiology.
Electronic image integration platform: It provides the electronic platform for radiology images interfacing with other medical automation systems such as Hospital Information System (HIS), Electronic Medical Record (EMR), Practice Management Software, Radiology Information System (RIS), among others.
Radiology Workflow Management: PACS is used by radiology personnel to manage the workflow of patient exams.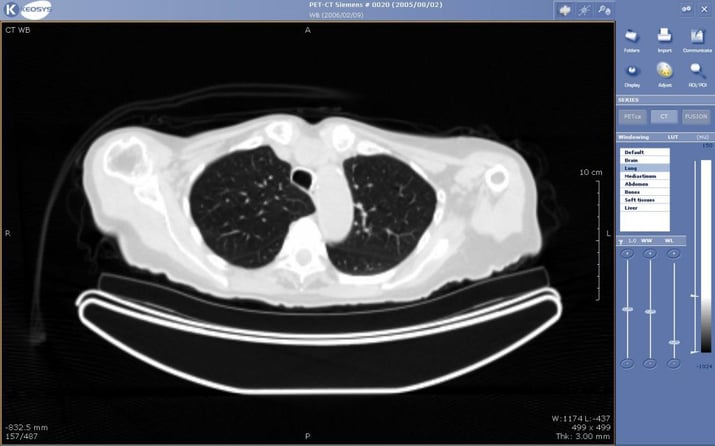 The use of PACS systems is beneficial to the diagnostician, the referring physician, the patient, as well as the hospital. These benefits might be summarized as follow.
Benefits to the diagnostician:
Improved access to past and current patient records;

File integrity and speed of retrieval;

Better diagnosis.
Benefits to the referring physician:
Better patient management/earlier intervention;

Better patient outcome;

Reduced length of stay;

Reduced legal costs due to maladministration on loss of films, lack of patient history, etc.
Benefits to the patient:
Reduced radiation exposure from x-ray equipment;

Shorter examination times;

Reduced radiation exposure as a result of less need for retakes of images;

Reduced patient inconvenience in attending hospitals for examinations and reexaminations;

Reduced chance of adverse reaction to contrast agents.
Benefits to the hospital:
Better communication with physicians;

Better hospital administration;

Better training of radiology and other students through access to on-line image files and to digital teaching files;

Greater staff retention due to improved morale.
The radiology specialty is one field of medicine with a very particular interest in PACS software. A radiology PACS is frequently deployed alongside a RIS. A RIS is used to schedule patient appointments and record a patient's radiology history, where a PACS focuses more on image storage and retrieval. It is not only radiologists who need to be convinced of PACS's utility and cost-effectiveness, but also referring physicians and hospital administrators.